New Coin Series of United States Coins
New Coin Series of United States Coins
New Coin Series to Feature Innovations and Inventors
A new coin series is to be launched later this year.  It will have a single coin issued in the inaugural year, and four per year for each year thereafter.
The new coin series will be coins of the one-dollar denomination, and will all have a common obverse.  The series obverse will consist of the Statue of Liberty and the inscriptions "In God We Trust" and $1.  The edge will have incused in it the year, mintmark, and E Pluribus Unum.
The initial coin, issued in the later part of this year, will celebrate the United States with George Washington's signature on the first United States patent.  It will also bear the inscriptions "United States of America" and "American Innovators."
Following the initial release that gives a glimpse into the series, there will be four coins annually released.  The series is to run through 2033.  The coins will showcase one or more significant innovations, an innovator, or several innovators from each of the fifty states, the District of Columbia, and the territories of the United states.  In this sense the new dollar series will be similar to the State Quarter Program and the America the Beautiful Quarter Program.
The official release from the United States Mint can be found here.  Information in this article came from the United States Mint release.
What is not included in the article from the United States Mint, but would be of interest to numismatists, are the details.  The metal is not specified, nor is the weight.  Also of interest is whether there will be coins finished as proof, uncirculated, or both.  Will there be special reverse proof coins?
If all else is similar, the fact that the image on the reverse of each coin will be unique could make this series more interesting than the Silver Eagle.  Also, with four distinct coins issued annually the mintage of each could be limited.  What is clear is that the coins are not to be circulation dollars.
It is time to wait with anticipation for the first release, which should answer the questions brought forth here.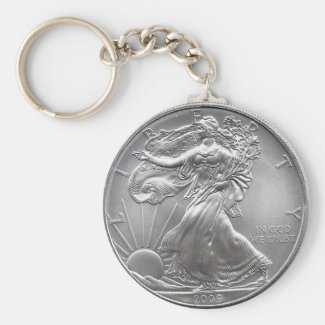 Coin
 – Zazzle Image
by
blackspanielgallery
Please visit Black Spaniel Gallery Coins to see out inventory.  Also, we have other informative articles, and will continue to add articles at Black Spaniel Gallery Blog.



Please see the cookie statement regarding tracking for affiliate programs and ads on the page where this appears on our website. Also, there are links back to products for sale that require cookies to properly process the orders, as well as links to the comment sections that leave cookies.  We do not sell information.  On our site we may use information to have our suppliers ship directly to a customer for larger orders of coin supplies.