Mardi Gras Doubloons
Mardi Gras Doubloons
Mardi Gras Doubloons Are Fun Collectibles
Mardi Gras doubloons are usually metal, and often round.  However, there are no hard and fast rules.  One female krewe, a word that describes a Mardi Gras organization, uses a purse as their signature, so they throw purse shaped doubloons.
Mardi Gras doubloons started in 1959 when Alvin H. Sharpe decided to produce them.  He first approached the Rex organization and put forth his idea.  In 1960 the Rex parade was tossing doubloons to the parade watchers.  Tossing inexpensive items to the crowd is part of New Orleans Mardi Gras, and the idea has spread to other areas.
Mardi Gras doubloons are great keepsakes, since they often have the krewe's insignia on the obverse, or the heads side, and an image representing the theme of the parade on the reverse.  The theme is unique to the year.  Also, many Mardi Gras doubloons show the year, as though they were coins.
The Aluminum Mardi Gras Doubloons
The Parade Doubloons
Usually Mardi Gras doubloons are made of aluminum, and are thin enough as to pose little danger when tossed.  Many are uncolored.  However, some are anodized with colors.  Since someone, the member of the krewe who tossed the doubloon, had to pay for it, the uncolored ones are more prolific.
Some krewes have certain colors for their doubloons.  Rex currently only throws gold colored doubloons.  Argus, a parade in Metairie, uses only uncolored and blue doubloons.  Mardi Gras colors are purple, green, and gold, but they need not be the colors of a parade's doubloons.  Large parades can throw a multitude of colors, adding interest in getting all of the possible doubloons.
Color can be hard to determine at night.  A parade might throw uncolored doubloons, and red doubloons.  If a handful is tossed, some might be red, but others might reflect a red light from the float and only appear red.  Float lights make it difficult to determine color at night.
Getting Quality Mardi Gras Aluminum Doubloons
Doubloons Easily Scratch
Doubloons often hit the ground.  I have a habit of placing the ones I catch in the air in a separate pocket.  Those did not get damaged.  A next choice is to stand in a grassy area.  Grass makes finding green doubloons harder, but they are not scratched by the street surface.  The best method of getting a good doubloon is to know someone in the organization who will give a doubloon to you.
Not every parade has doubloons to throw.  In the late sixties, and into the seventies, collecting doubloons was popular.  Then came the less expensive plastic cups with the parade name and theme imprinted on them.  Many members of krewes went to cups, and they became so popular that some parades abandoned doubloons altogether.  They soon became hard to get.  Many people lost interest.  Now, some parades are getting back to doubloons, but there are many parades that have gone back to doubloons but have just a few people tossing them.  Interest is coming back but is not where it once was.
At the peak of interest in Mardi Gras doubloons people had extensive collections, and there were swap meets.  Some shops, similar to coin shops, operated.  You could buy Mardi Gras doubloons, and rarity set the price.  Some were kept rare by the organization that controlled mintage.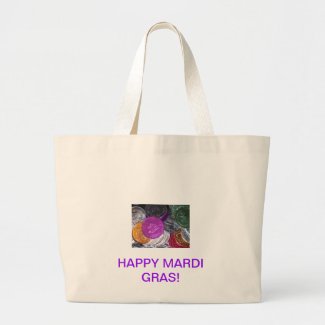 Special Parade Mardi Gras Doubloons
Some Doubloons Are Different
Some organizations have thicker, unique colored doubloons for officers.  Some have a celebrity grand marshal who tosses a special doubloon with the image of the celebrity.
Larger parades have krewes with members who put more money into their parade, and throws.  These parades are likely to bring in celebrities to act as grand marshals.
Ads on Mardi Gras Doubloons
Unusual Coupons
New Orleans has had problems with commercializing Mardi Gras, and with throwing things of value from floats.  But, outside the city limits doubloons that showed the sponsor of a float, and even acted as a coupon, have been thrown.  I have seen coupon doubloons for 7 Up, fried chicken, and even a now defunct minor league football team, among others.  Usually these are thrown only from a single float, but are thrown in a prolific number.
Special Coloring of Mardi Gras Doubloons
Mutli-Colored Doubloons
Obviously colorizing a doubloon with more than one color is more involved, and costs more.  Some, just a few, organizations have had doubloons featuring multiple colors.  These are rarer, and likely to have not been thrown.
Silver Mardi Gras Doubloons
Special Editions
Silver doubloons are collectible.  For these you will not catch one from a float.  You will have to have a source within the organization, or find what you want on a site like Ebay.
Silver doubloons have no standards.  I have spoken to people who deal in coins and doubloons, and was told there is no weight standard, although most are about one Troy ounce.  In fact, one dealer said that he has gotten different weights of silver doubloons from the same parade for the same year.  Many are 0.999 fine silver, but others are not.  Apparently larger organizations are more likely to use the fine silver doubloons, but smaller organizations might opt to use Sterling silver, which has a purity of 0.925.
Other doubloons are oxidized silver.  I asked a dealer about this, since they often sell significantly under the value of an ounce of silver.  I was told they are plated with silver.  The oxidized silver layer gives an antique appearance.
And collectible doubloons do not require an issuing organization even have a parade.  Many Mardi Gras organizations have balls, but do not parade.  There are no regulations on Mardi Gras doubloons that would prevent them from issuing doubloons as they see fit.



Please visit Black Spaniel Gallery Coins to see out inventory.  Also, we have other informative articles, and will continue to add articles at Black Spaniel Gallery Blog.
Please see the cookie statement that show cookies are required for tracking for affiliate programs and ads on the page where this appears on our website. Also, there are links back to products for sale that require cookies to properly process the orders.