Collectible Coins Require Collectors
Collectible Coins Require Collectors
Collectible Coins:  Are All Coins Collectible?
Collectible coins include be any coin if you are willing to pay for the acquisition of that coin, but will it be collectible to others?  A collecting community of one, or even a few, does not make a coin a collectible coin to the numismatic community.
In order to better understand what is a collectible coin, and which coins are better avoided, we will break coins into four major groups.  Please note that individual coins in any group that gather an interest can be collectible.  But some appeal to numismatists in greater numbers, and have the potential to appreciate in value.  Others have less numismatic appeal, and may even be found distasteful by many.
Circulation Coins Are Often Collectible Coins
Circulation Coins Are Those Coins That Can Be Found in Change
ns
The basis of numismatics is collecting, and most coin collectors start well before premium pieces are affordable.  Many coin collectors start with one or several albums, and simply examine change.  Once the seed is planted there is a tendency to upgrade, buying high grade coins or lower mintage harder to find issues.  So, let us start with the premise that circulation coins are collectible.
The easiest way to collect circulation coins is to purchase mint sets, also called annual sets.  Then, a move to include proof sets is a next logical step.  There is the problem with sets losing value, but they make a nice collection.  Older sets are easily found, many of which are affordable, in the secondary market.  And, one need not restrict collecting to one's own country's coinage.
Past Circulation Coins Are Collectible
Not Every Coin Will Appear in Change
By past circulation coins we mean here any coin that was once in circulation, but has become obsolete.  I doubt any numismatist would argue against collecting European coins that circulated before the Euro, original gold issues of the United States that were removed from circulation by law in the thirties, the coins of countries that no longer exist, and ancient coins.
Coins that currently circulate do not include all coins that once circulated.  But, who would disapprove of a collection of such coins?
Even a coin not intended for circulation within the issuing country might be held in high regards by numismatists.  The case of this is the Trade Dollar, issued by the United States government, but intended for foreign trade.  Well, that was in the time when coins were valued by their metallic content.
Are Non-Circulating Coins Collectible Coins?
Part 1:  Bullion Coins
Non-circulating coins include two main classes of coins.  One class is bullion coins.  A bullion coin has a significant purity of the precious metal, such as 0.900 or finer.  Many are minted at 0.999 or 0.9999 fine gold or silver, or 0.9995 platinum.  Bullion coins are collectible for the precious metal the coins contain.
Many major mints have become clever and began to mint desirable images on bullion coins.  Some, such as the American Eagle Coins and United Kingdom Britannia have images that are meaningful to numismatists.  Some bullion coins have a companion proof issue, which make the bullion coins a less expensive version of a more expensive coin, adding desirability.  And some have significant historical or cultural content, a desirable inclusion.
Historical and cultural bullion coins would be coins like the Queen's Beasts coins and the Landmarks coins of the United Kingdom.  The Royal Mint has a sense of history and culture, which makes their coins, even their bullion coins, meaningful.  For more on the Queen's Beasts and all British bullion coins you can read our other articles here.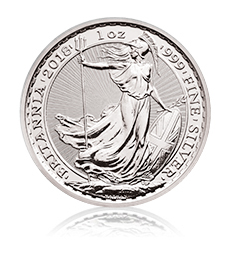 Are Non-Circulating Coins Collectible Coins?
Part 2:  Commemorative Coins
Commemorative coins have undergone a tragic proliferation, with less than hoped for results.  But, some remain highly collectible coins.  To examine this, we need to look at individual mints and programs.  As a basic premise let us start with the idea that if a coin portrays the history or culture of the issuing country it has more meaning.
The United States commemorative collectible coins of the early series that ended in the fifties generally commemorated a person, place, or event significant in the early nation.  Many of these coins are very highly priced, indicating a high degree of collectivity.
The United States coins of modern times commemorate things that are not always so significant.  And, since there are so many less desirable coins in the set as a whole, these coins have not appreciated in value as one might have hoped.  There is a significant difference that divides the two commemorative groups of coins.
The European Silver Progrmme is a program for nations in the European Union to be able to issue silver, and there sometimes is a gold version, coins with topics that showcase the history and culture of Europe.  More details on this program can be found in our previous article found here.
The Royal Mint issues a relative low number of commemorative coins, and concentrated on coins that tell the history of the United Kingdom.  Some coins feature the monarchy, which is not a topic of universal appeal, but it is the most visible monarchy left in the world.
The French Monnaie de Paris gives us a nice selection of topics that depict the different parts of France, French culture, and French history. More detail can be found in the linked articles.
The Royal Canadian Mint has several topics that are repeated, the culture of Canada with an appreciation of the First Nations People, the animals that are indigenous to Canada, and the symbols of Canada.  There is a desire to attain high quality, and it shows in the coins of the Royal Canadian Mint.
The Perth Mint in Australia has quite a few quality coins that show the history and culture of Australia, and have even included indigenous art in the coins of Australia.
The problem is with some island nations.  The worst case seems to be Niue.  Niue has through proliferation of commemorative coins, often with little significance of the subject matter, caused a disdain for commemorative coins.  To generalize is a mistake.  But, the practice of over minting commemorative coins by producing many different coins annually is a problem.
Perhaps the reason is economic.  Niue has no mint, and many mints produce their coins.  Coins have come out from the New Zealand Mint, the Mint of Poland, the Singapore Mint, and even a Swiss bullion house.
The other part of the problem is Niue silver coins often show up as plated coins on Ebay.  Are they monitoring counterfeiting?  Does Niue care?  My guess is that the rights to mint a coin is sold, and the coins are independently being designed and ordered.  If that is so, the payment would possibly end the interest of Niue.  And, the New Zealand Mint, despite its name, is not owned by the government of New Zealand, it is a private mint.  Is the New Zealand Mint doing enough to protect from Chinese counterfeit coins?  After all, it has no weight of a government to sanction a nation allowing or ignoring counterfeiting.
A deeper question is whether coins are really coins, such as those issued by Hutt River Province.
All commemorative coins cannot be painted with the same brush.  Some, such as some of the British, Canadian and French coins, have meaning.  Those mints still mint commemorative coins akin to the older United States commemorative coins.
Of course, what is collectible is debatable.  If you would like your opinion known there is a comment section below.  As you read comments, just be aware comments are opinions of their authors.  Accuracy is not a given.  Indeed, this is a topic for much debate.
Please visit Black Spaniel Gallery Coins to see out inventory.  Also, we have other informative articles, and will continue to add articles at Black Spaniel Gallery Blog.
Please see the cookie statement that show cookies are required for tracking for affiliate programs and ads on the page where this appears on our website. Also, there are links back to products for sale that require cookies to properly process the orders.